Sorry for the delay on this post, but I was waiting on this lovely image to be able to share with everyone. This picture was taken right outside the finish line, as if you couldn't tell by the look on my face. And I do apologize for the watermark on my face...I'm not in the mood to pay 12 bucks for a jpeg.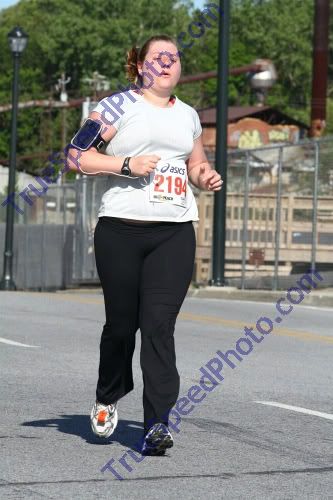 I was horribly under trained for this race, as the P90x has been consuming all of my time. The last run I did before this race was a 5k 10 days prior. Not a good idea. The run was hard, but I managed to finish. Pace was just under 12 minutes per mile and my 5k split was just under 35 minutes. No great figures there, but about average. I guess the bright side, outside of the fact
I FINISHED A 10k!
, is that I didn't lose that much of my time from not running in the last month. I tend to average an 11-11:45 ish pace, so 12 wasn't too out of the normal realm for me.
I have one more 10k lined up for this year, the famous Peachtree Road Race. I'm also signing up for the Big Peach 5k May 1st, and am looking forward to dropping back down to 5k range. I would like to work on improving my speed instead of adding more distance, so I'll be forcing 2 runs a week into my P90x training.
I couldn't have ever imagined running 6.2 miles (actually this course was 6.46, but who's counting) at any other point in my life, so I am simply relishing in that fact. I feel like I'm standing on top of a mountain, looking at how far I've come. It's a great feeling, and know that only good can come out of getting out there again.